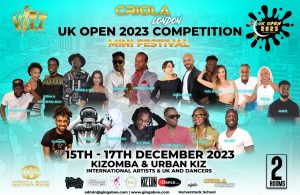 UK OPEN 2023 (UNITED KINGDOM)
National Championship UK Dance Competition | 3 Categories
Solo Styling Kizomba, Urban Kiz, Tarraxo
REGULATION : COMPETITION CONCEPT 
The competition is open to all nationalities and cultures in the UK. It is open to dancers, students, and teachers of all levels and styles.
The Qualification & Grand Final will be held in London during the Criola London Mini Festival on 15/17th December 2023.
Competitors will battle against each other in 1 minute and 30 seconds of improvisation. Winners will advance to the next round, with the final 2 battling for the title.
PARTICIPATION AND REPRESENTATIONS
Entrants must be at least 21 years old.
Open to all genders (Male & Female)
Competitors are responsible for their own travel and accommodation costs.
Dancers can participate in multiple solo styling categories.
A £20 registration fee per category is required prior to competing.
Participants must have a Criola London Mini festival pass for the event dates.(Discounted)
Competitors must confirm participation within 30 minutes minimum before the start time.
FORMATION OF THE JURY
The order of appearance is determined by random draw at the start of each round.
Judges cannot also compete in the same competition.
3 judges per qualification round. They should have expertise such as teaching, performing, DJing, or prior competition success.
Judges will score based on technique, creativity, rhythm/interpretation, presentation, and improvisation ability.
There would be no direct communication between members of the jury and couples, the communication channel must be made through the organisation.
ETHICS
Judges will score based solely on dance performance, not technical knowledge, personal relationships, or other external factors.
Judges must remain neutral and not influence competitors through signs, gestures, or expressions.
Out of respect for dancers, judges should refrain from displays of irony, disgust, laughter, or other unethical behaviours.
IMPROVISATION ROUND DETAILS:
Dancers will improvise to Kizomba/ Urban Kiz/ Tarraxo tracks selected live by the event DJ.
Competitors will battle against each other in 1 minute and 30 seconds of improvisation. Winners will advance to the next round, with the final 2 battling for the title.
The competitor will have the opportunity to hear the song for 30 secs before dancing
Contestants must be dressed appropriately for the competition
Competitors should not communicate with others during their improvisation.
Avoid singing along to stay focused on dancing.
Keep the same number throughout the competition.
EVALUATION / JUDGING CRITERIA
Technical : Mastery and execution of movements.
Creativity/Originality : Use of new and different movements.
Rhythm/Interpretation: Consistent timing and fluidity of body movements.
Visual Presentation : Hairstyle, costume, makeup, overall aesthetics.
Improvisation Ability : Evolution of dance, complexity, synchronization to music.
PRICES/AWARDS
The winning dancer in each category will be crowned the UK Solo Styling Champion 2023 for Kizomba / Urban Kiz / Tarraxo.
They will receive:
A trophy to recognize their title.
A contract with Ginga Boo UK to showcase their skills and other promoters in the UK.
FREE Private lesson with International teacher , T-Peak (Tarraxo), Jeydikson Lima (Kizomba), Urban Kiz (TBC) as per the competition category.
2nd Place – A voucher for Larissa Shoes and a Voucher for Personal trainer 4 week workout plan (online or face to face)
3rd Place – A Free pass to a UK or European festival
PENALTIES / DISQUALIFICATIONS
Violating the rules may result in point deductions or disqualification from current/future competitions.
A disciplinary committee of judges and organizers will determine consequences.
OTHER CONDITIONS
No commercial branding allowed during performances.
Organization is not liable for lost/stolen items.
Participants are responsible for any physical damage.
Organization reserves rights to all video/photos for promotion.
Rules subject to change if published on website.
PARTICIPANTS
I have read and fully accept the terms and conditions of the rules for the UK Open Championship 2023. I certify that I am a participant and commit to faithfully following all the rules and requirements.
Competitor's Full Name | Gender | Date and City | Signature
Place and Date:
TO REGISTER EMAIL US AT ADMIN@GINGABOO.COM