Ginga Boo UK Night -
Urban Kiz Thursday London
Online payment :
DEADLINE Thursday 19th May 12PM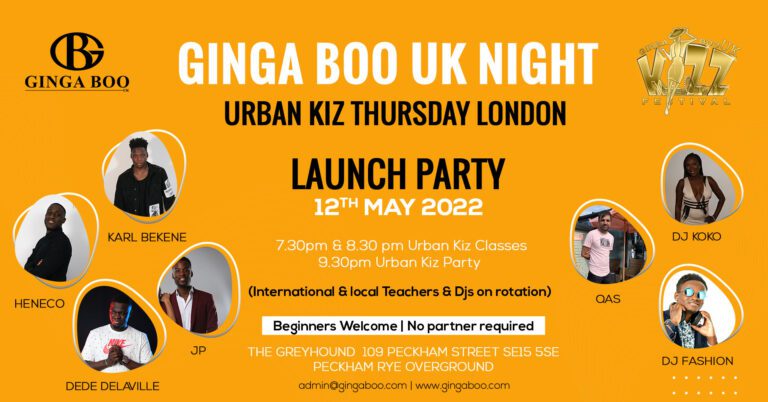 Ginga Boo UK night would like to present you the return of their Thursday night with a new format -Urban Kiz Thursday London!
This will be happening fortnightly (more details to follow).
We will have a Rendez-vous together with an International Urban Kiz teacher & Local teacher, to learn, practise, dance, socialise. This is a golden opportunity to learn from the best on a weekday, to taste spices from across the globe and help you enrich & excel your dancing level.
Thursday 19th May Guest International Urban Kiz teacher Karl
★ Karl Bekene (Karl & Nima)
https://fb.watch/cuPUHJzt1t/
★ JP (Jean Pierre & Stephy)
https://fb.watch/cuQviteINg/
★ Dedelaville
https://fb.watch/cuQtnG76J5/
★ Heneco
https://www.facebook.com/henecosi.henecosa/videos/847588659263795/
And much more to be announced…
Thursday 19th May
7.15pm Door opens – 7.30pm start sharp
7.30pm & 8.30pm 2 classes | 2 level
Urban Kiz Progressive/ intensive Beginners | Qas
Urban Kiz Improvers / Intermediates | Karl ( International teacher)
9.30pm to 12am (for now) Urban Kiz Party w/ Dj Fashion
Playing the best of Urban Kiz, Tarraxinha, Ghetto Zouk, Tarraxa, Kizomba, Cabo Love, Douceur…
International & local teachers | Djs on Rotation
|||IMPORTANT FOR BEGIINNERS!!!
★We will be having a teacher dedicated for beginners and each class will build upon the previous classes, to enhance your technique and flow on the dance floor. Don't miss it!!!
★If you have never done Urban Kiz before or Kizomba we will advise you to learn Kizomba basic in parallel as this Urban Kiz class, learning Kizomba basics we help you to become a much better Urban Kiz dancer. We run Kizomba Tuesday London @Revolution Bar and provide Kizomba beginners every week from 7.15pm.
Link for Tuesday : https://gingaboo.com/events/kizomba-tuesday-london/
EXTRA :
If you are interested on getting private lesson with our artist of the week contact us at admin@gingaboo.com to arrange it for you and get all the details for you.
NEXT PARTY Thursday 2nd June
Bank holiday weekend party till 1.30am
PRICES :
Ticket online | Deadline Thursday 19th May 12pm
Workshop & FREE Party
Improvers/Intermediate (International teacher) £22
Beginners £10
AT THE DOOR :
Improvers/Intermediate (International teacher) £25
Beginners £12
Only Party £7