Check out the galleries and what dancers thought of this years event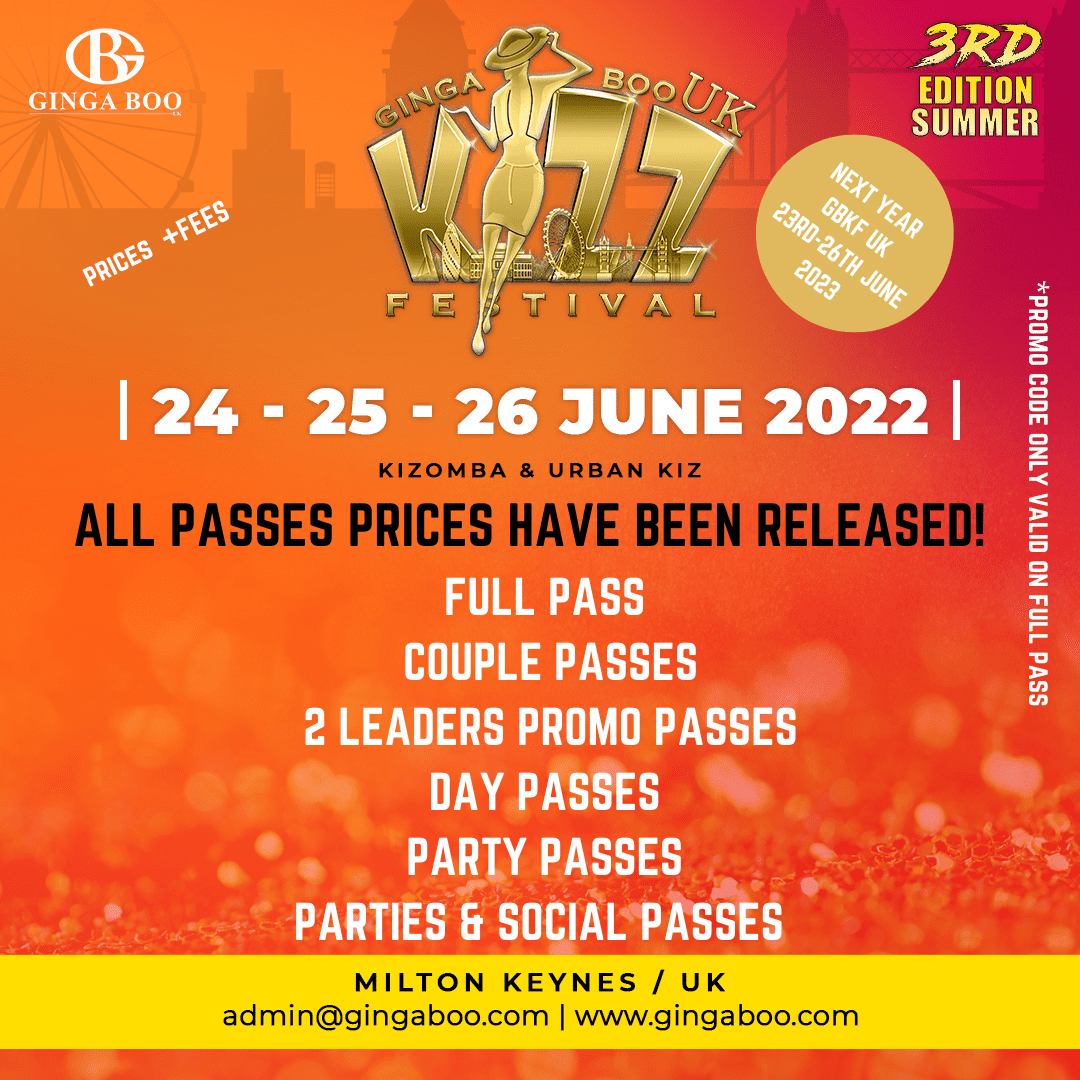 ONLINE SALES ARE NOW CLOSED!
ALL TYPES OF PASSES WILL BE AVAILABLE AT THE DOOR!
Ginga Boo UK Kizz Festival third edition.
In the previous years we made a tremendous amount of effort to bring the most renown International & National artists, and  create the European festival-like vibe here in the UK.
We've been providing multiple  rooms for dancers to enjoy many dance styles – Kizomba, Semba, Urban Kiz, Funana ect, plus Afro workshops to cater for the taste of all the International & UK dancers.
This year we have decided to change the format of our event.  We will focus on our own talented UK artists and give them the proper opportunity to shine – they are all so excited about the project and can't wait to meet you all and get to share their invaluable knowledge.
We also decided to make one more big shift and make this dance festival what it is supposed to be about… about DANCING…. hence we are investing in bringing good international dancers.
We'll be bringing 50 taxi and guest dancers from all over Europe, to offer extra quality, extra spice to our festival in order to bring you the full dancing experience during the Ginga Boo UK Kizz Festival: full set of good partners to practice during our classes AND quality dancers for our socials at night.
Get ready for some QUALITY DANCING!!! . LOTS OF DANCING ON THE MENU!!! We shall dance till we drop…
P.S.  We would like to thank you for your patience and for waiting for our details being released only now.  Due to the events of the last 2 weird years we have had to reorganise absolutely everything: reschedule the earlier agreed dates, re-book all the artists, re-organise all the earlier arrangements, again and again.  We also wanted to make sure that we pick a date that was suitable for many and that the prices of the hotels are reasonable to make it easier for all our customers to join us, making it a very affordable weekend full of learning, dancing, socialising, lots of fuuuuuuuuuuun!
P.P.S. The last two years were not that much joy and there was not too much dancing nor fun.  Let's make it up this time and get as much quality dancing as it is possible. Let's feast!  Let's celebrate!  Let's have a dance carnival!
We are ready to welcome you in our sumptuous venue, amazing floor for dancing, big chandeliers, ventilated, spacious, high ceiling, a little patio we can use if the weather is fantastic!!!
■#KIZOMBA ■ #SEMBA■ #URBANKIZ ■ #AFRO■
PROGRAMME 3 DAYS
Friday 24th 9pm -5am
Saturday 25th 12pm – 5am
Sunday 26th June 1pm – 2am
Day Workshop | Evening classes |
Social dancing | Parties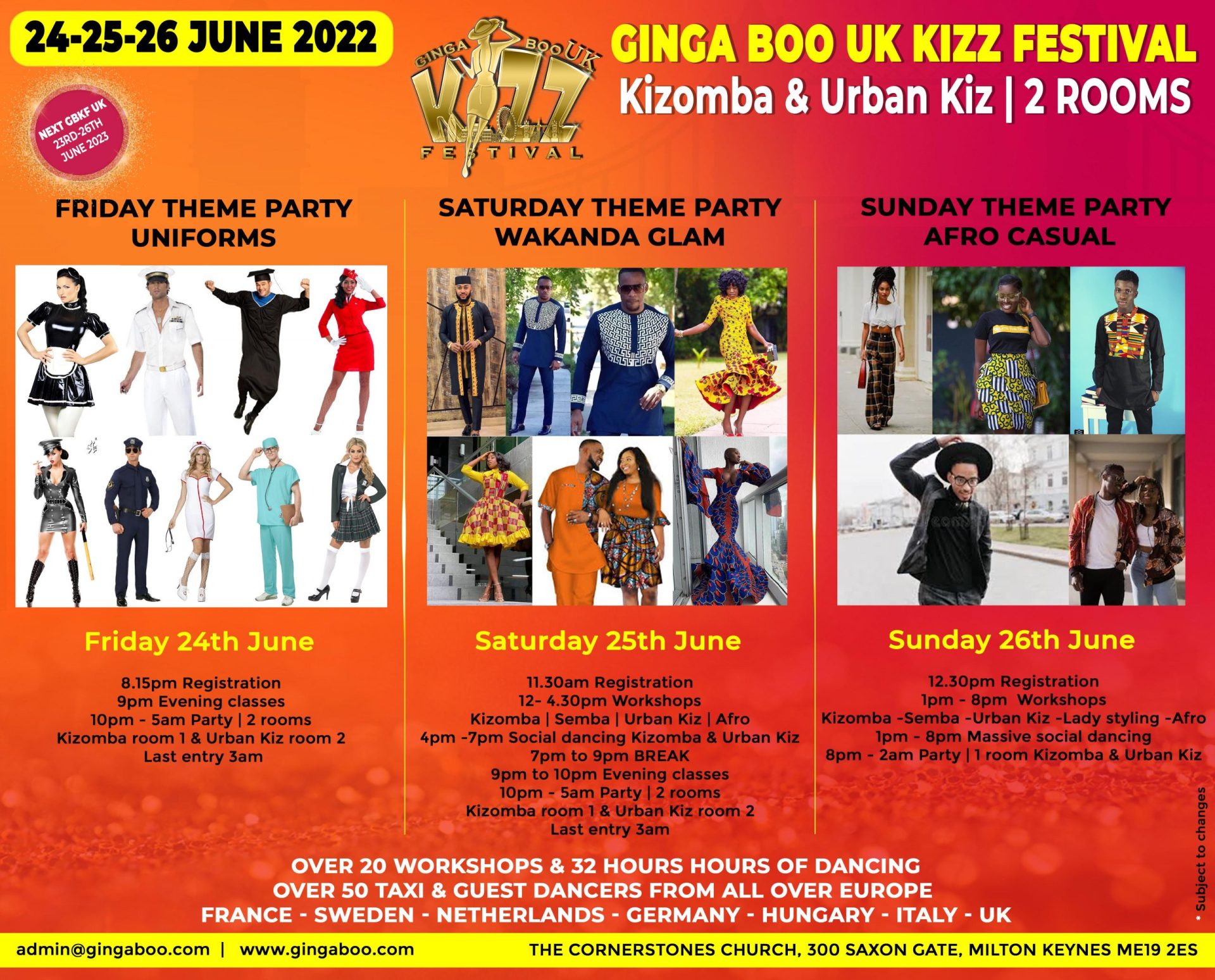 Full schedule to be released soon…
★ UK TEACHERS
Elisha & Miss Ginga Boo (London)
Bruno & Iulia (Leeds)
Mr Rico Suave (London)
Jeydikson Lima (Birmingham)
Janna & Mister MeuSemba (Bristol)
Jay & Natalia (London)
Alvin & Raluca (London)
Maribel (Manchester)
Josielyn (Reading)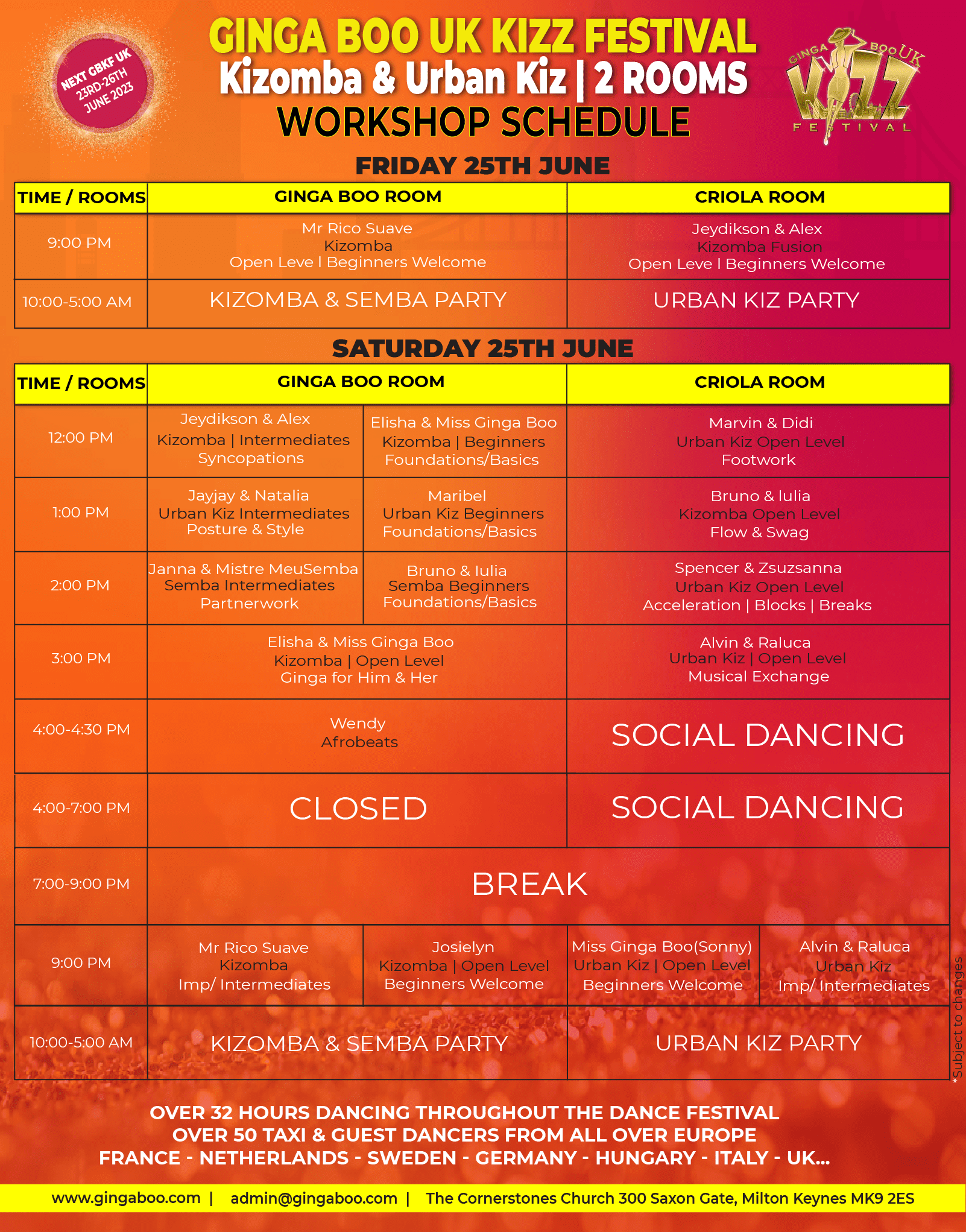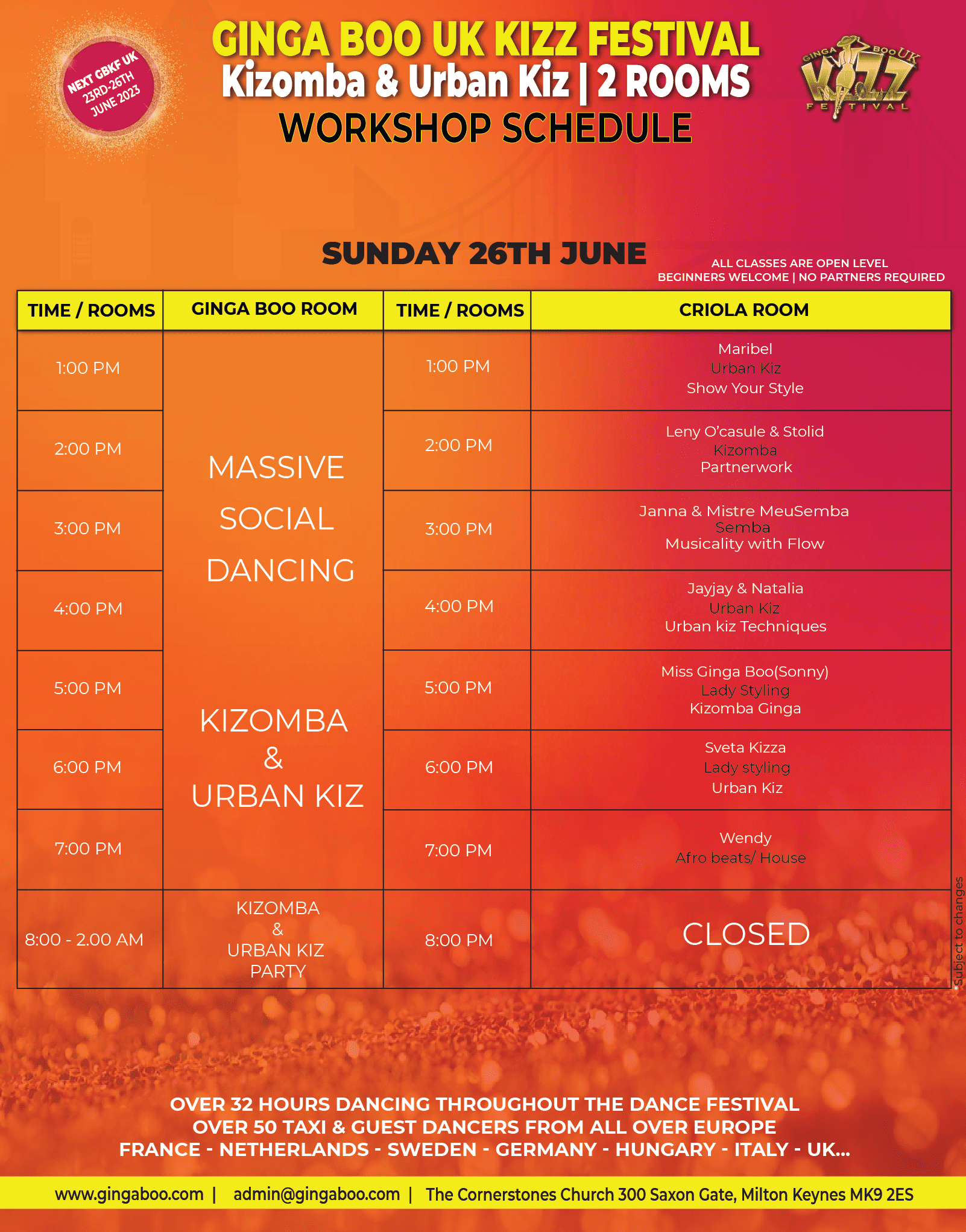 ★ UK DJS
Dj Koko (London)
Dj 5Starkid (Birmingham)
Dj Visser (London)
Dj Gerson Van (Birmingham)
Dj Amine (Manchester)
Dj Dico (Leeds)
Dj Ruivo (Nottingham)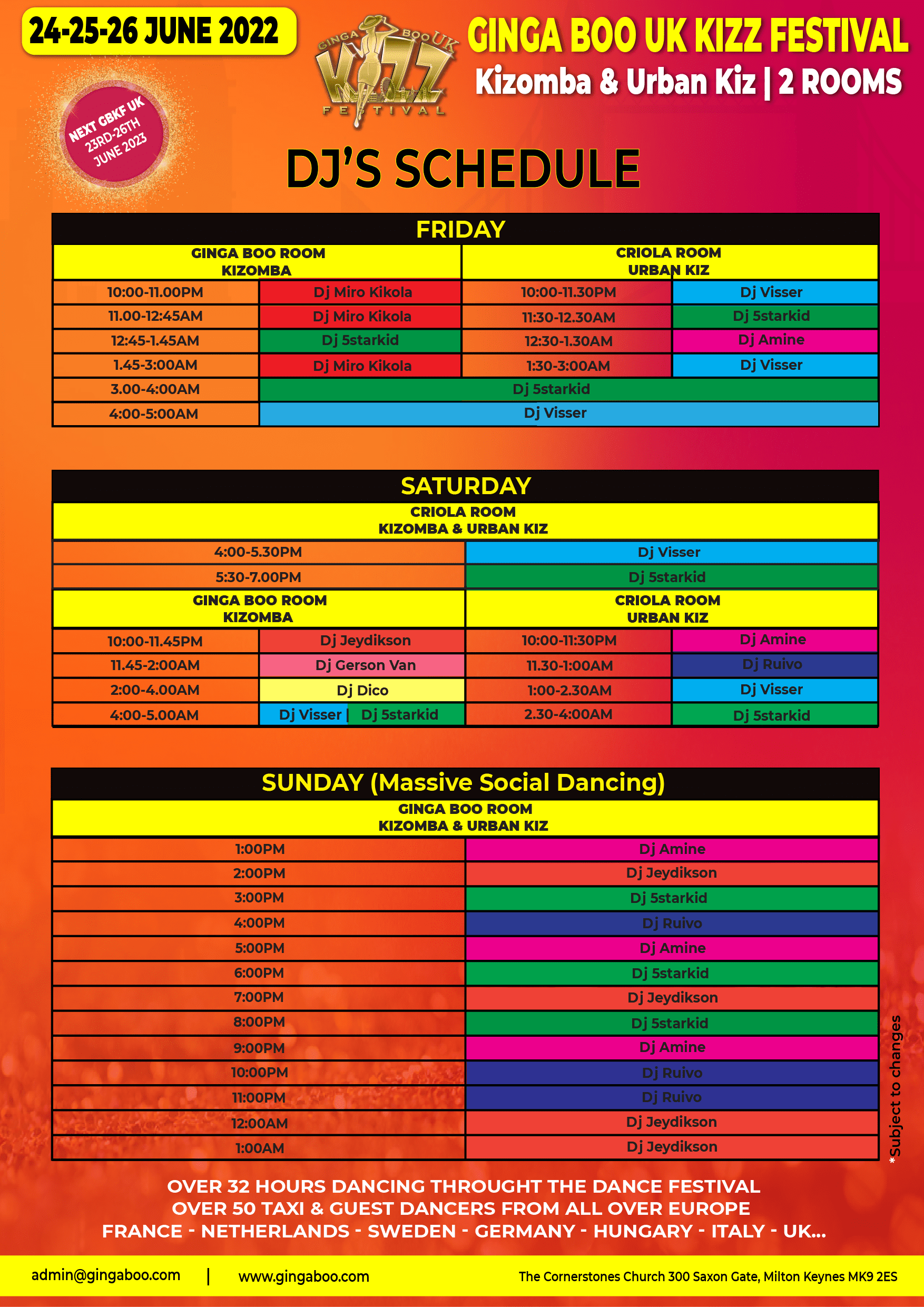 TAXI TEAM & GUEST DANCERS
Mkz Team (Paris)
Pazzy Team (Paris)
Dancer team (Paris)
Badja team (Netherlands)
More International Taxi team & UK Guest dancers to be announced…
★ ADDRESS :
The Cornerstones Church
300 Saxon Gate, Milton Keynes MK9 2ES
FREE PARKING SPACE
★ HOTEL :
Cheapest Hotel nearby…
Travelodge Milton Keynes the Hub
https://www.travelodge.co.uk/hotels/608/Milton-Keynes-at-The-Hub-hotel
Premier Inn https://www.premierinn.com/gb/en/hotels/england/buckinghamshire/milton-keynes/milton-keynes-central-avebury-boulevard.html?cid=GLBC_MILAVE
★There are several other hotels & airbnb around as another option.
★PRICES :
Online payment | online closes 20th June 2022 11.45pm
ONLINE SALES ARE NOW CLOSED!
ALL TYPES OF PASSES WILL BE AVAILABLE AT THE DOOR!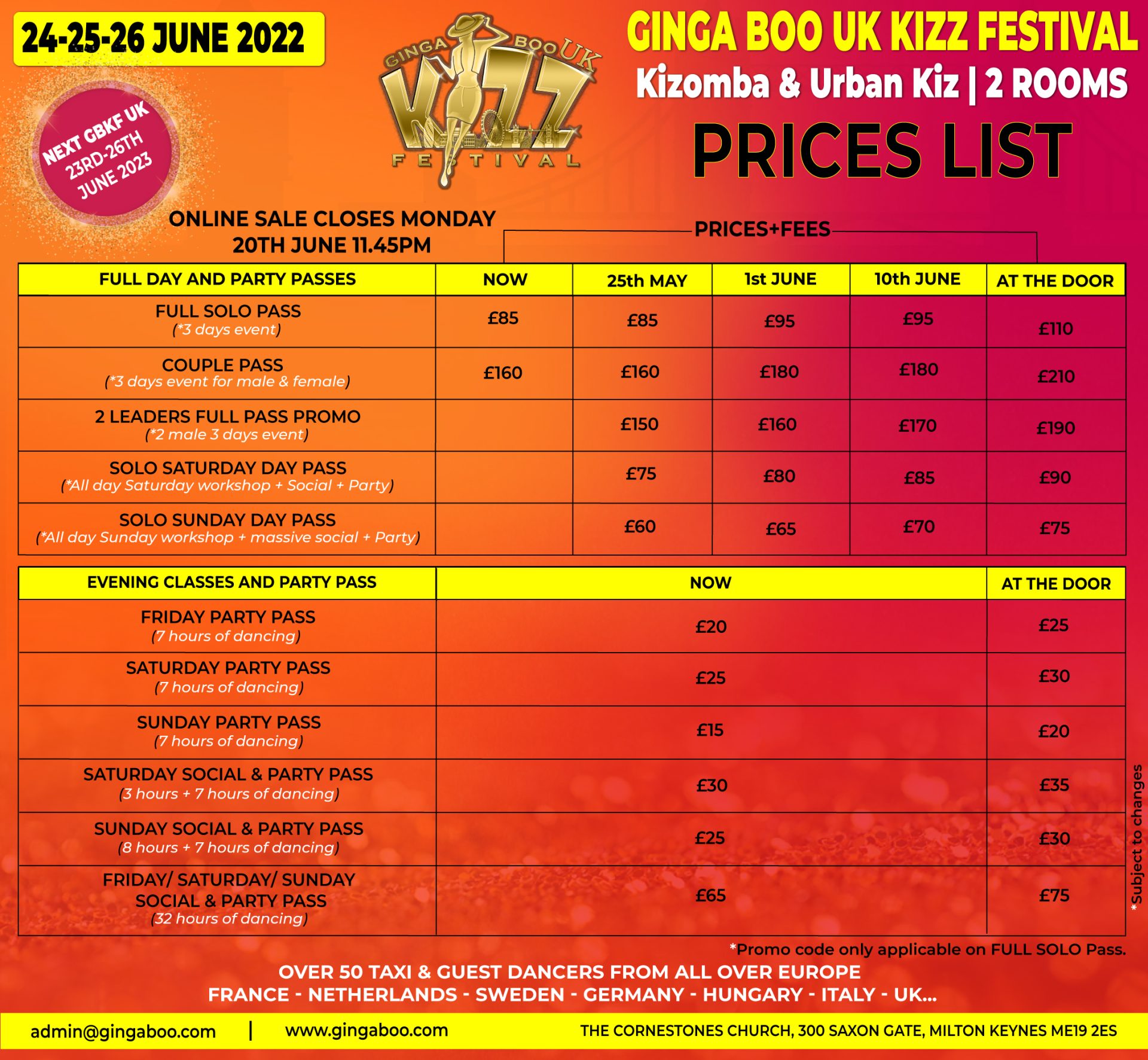 ★PHOTO/ VIDEOGRAPHER
Karen Chau – Maria Solukava
★GINGA BOO KIZZ FESTIVAL UK COMMUNITY GROUP :
To help you to get connected, help each others, finding rooms together, finding rides together etc…
https://www.facebook.com/groups/1985655668356693/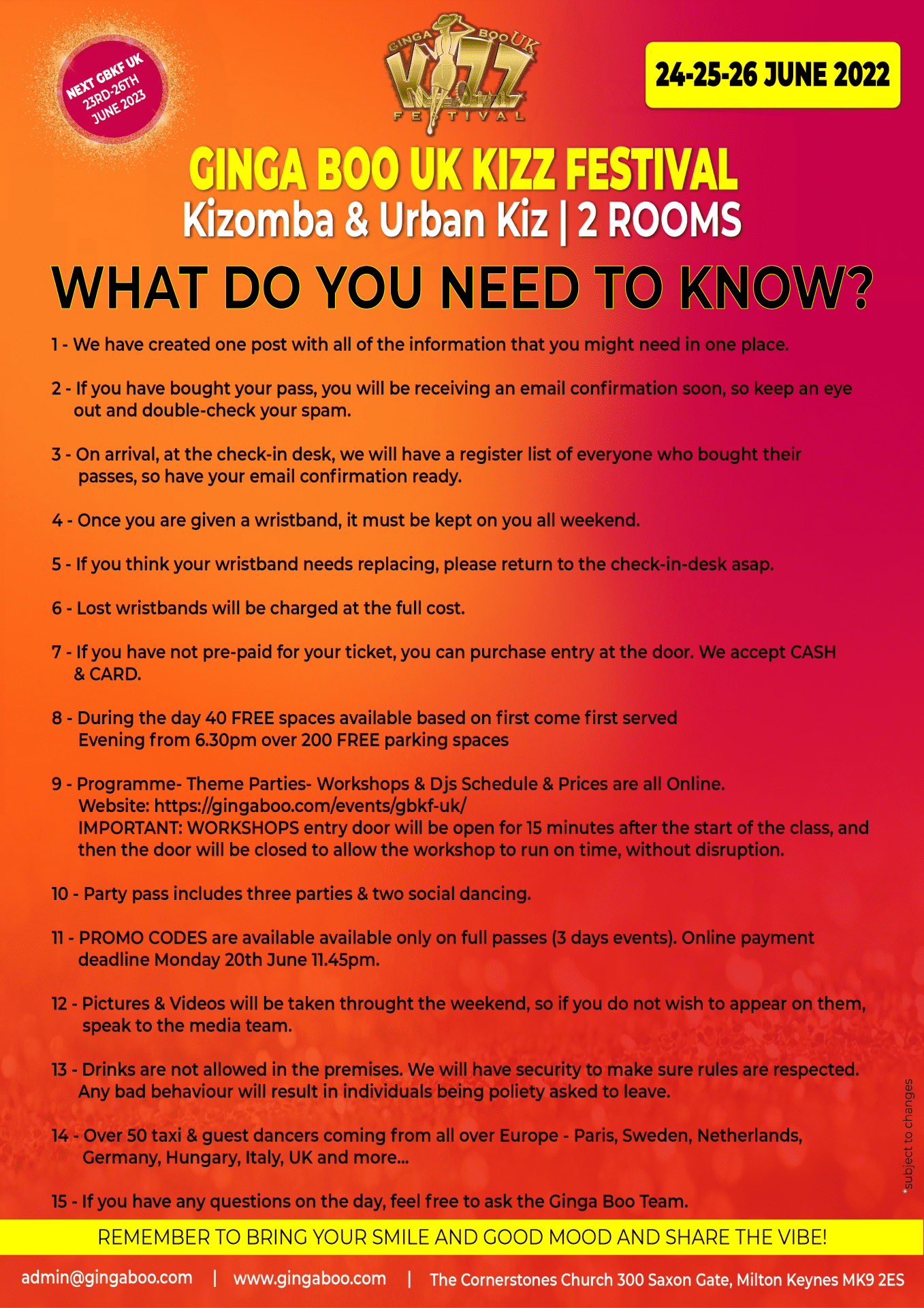 ★STALLS
If you are a fashion designer, supplier/seller of dance shoes, accessories etc… We can hire space for you to sell dance related products or services, get in touch at svpromotions1@gmail.com.
FIND US on social media :
Facebook page : Ginga Boo UK
Facebook group : https://m.facebook.com/groups/866397073489314?ref=share

Please stay home if you have any flu-like symptoms or feeling unwell.
This is to protect our community, as we all love to dance in good health and energy
#kizombalondon #kizombatuesday #kizombamusic #kizombaclasses #sembalondon #sembaclasses #urbankizlondon #urbankizclases