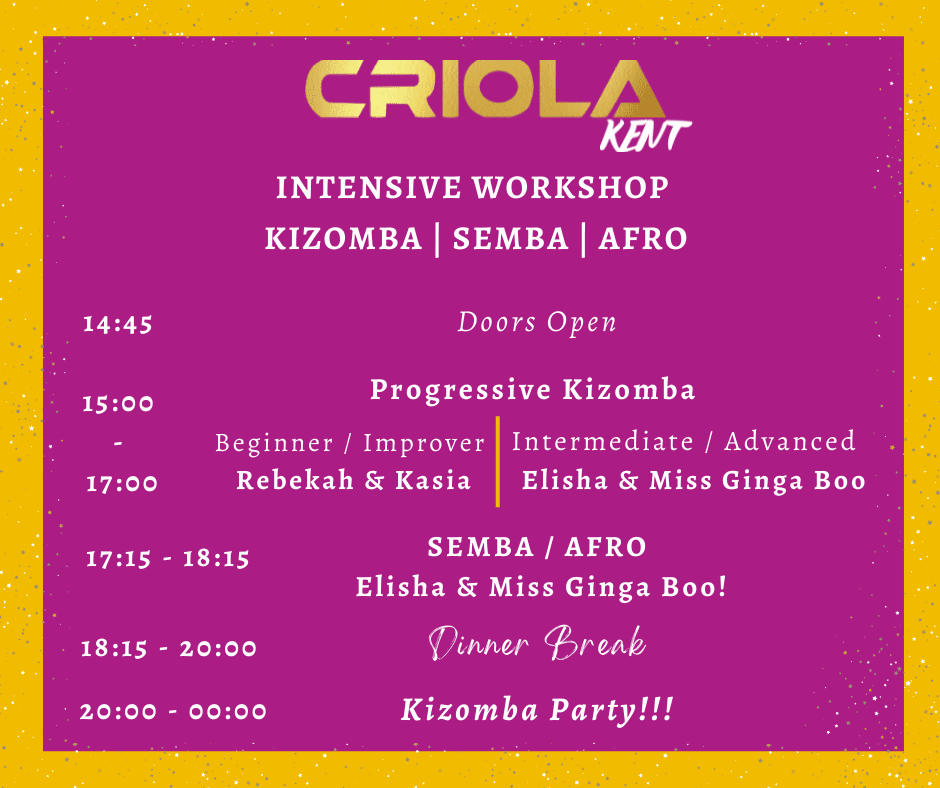 Flash sales Monday 7th March to Saturday 12th 11.45pm £25 all day!!!!
Criola Kent – Kizomba
Continue 2022 Kiz Style with an incredible afternoon workshop and evening of Kizomba!! We will be in a fabulous venue Dance Visions.
Kent Kiz Connection and Ginga Boo UK are delighted to present this wonderful Criola Kent event. We will have 2 levels on the day so that there is something for everyone!
We will be running 3hrs of progressive beginner / improver workshops and our special guests Elisha and Miss Ginga Boo will be coming from London to do progressive intermediate and above Kizomba worshops with Semba & Afro for all, followed by a great night of Kizomba social dancing!!!
You won't want to miss it!!
Timetable:
2.45pm Doors open
3pm – 6pm Workshops
Kizomba & Sembafro (Semba + Afro)
6pm – 8pm Dinner Break:
8:00pm – 12.00 Kizomba Social/ Party
2 levels + workshop
Beg/ Imp & Int/ Adv
Passes: All day available NOW get yours below!
Flash sales Monday 7th March to Saturday 12th 11.45pm
£25 all day!!!!
Hot and cold drinks and snacks will be available to purchase in the venue throughout the day as well
Address :
Dance Visions Studio, Unit 7 & 8, Kingfisher Business Centre, Henwood, Ashford TN24 8DG
We cannot wait to see you all!!
CRIOLA is a monthly Kizomba party which was organised by Ginga Boo UK in London originally. It is all about bringing different flavour workshops, classes and parties to even more people. Criola events are now spreading across the UK with a variety of dances & music that will be taught and played at our parties. These will include: Kizomba, Semba, Tarraxinha, Urban Kiz, Cabo Love, Urban Tarraxa, Funana, Douceur, AfroHouse/Beats, Ghetto Zouk and more…